I loved this story. I think it is amazing when someone who had a tough life not only turns their life around, but helped others along the way. Here is part of the story...
Grandmother helping Chicago kids 'off the block'
Chicago (CNN)
-- In Roseland, one of Chicago's most dangerous neighborhoods, many residents stay off the streets to protect themselves from rampant gang violence.
But one grandmother opened her door and invited gang members to come inside.
"They say I'm a nut because I let kids into my home who I didn't even know," said Diane Latiker, 54. "But I know (the kids) now. And I'll know the new generation."
Since 2003, Latiker has gotten to know more than 1,500 young people through her nonprofit community program, Kids Off the Block. And she hopes that by providing them with support and a place to go, she is also bringing hope to a community in crisis.
"We are losing a generation to violence," said Latiker, who started the program in her living room.
Latiker, a mother of eight and grandmother to 13, has lived in Roseland for 22 years. She said she was once "young and dumb," dropping out of high school and having seven children by age 25. But she said that by 36, she had turned her life around: She got remarried and earned her GED. She had also given birth to her eighth child, Aisha.
This time, she said, she was determined to do things right.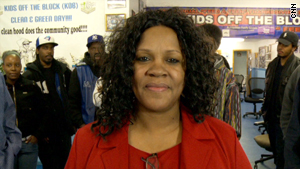 Diane Latiker, 54, has become a mentor for local youth in her Chicago neighborhood.
But when Aisha became a teenager in 2003, Latiker worried that Aisha and her friends would fall in with a gang. After all, gang members lived next door, and there weren't many safe things for teenagers to do.
"I started taking (Aisha and her friends) to swimming and movies and whatever," Latiker said. "My mother saw that, and she said: 'Diane, why don't you do something with the kids? They like you and respect you.' "
Latiker was hesitant at first. She wanted to focus on being a grandmother and rebuilding her relationships with her older children. But after thinking and praying about it, she decided to make use of the natural rapport she had with young people.
You can read the rest
HERE:
"Every day you have the opportunity to learn and experience some-thing and some-one new. Seize the opportunity. Learn and experience everything you can, and use it to change the world."
~