What an amazing speech Martin Luther King Jr. gave. As one friend said...we should all listen to this once a year, in hopes that we would never forget how to treat each other. You can listen to it when you go
here:
Then I also found these ideas on honoring MLK on an ABC news report. Great idea.
Good night dear friends!
5 Ways to Honor Martin Luther King Jr.
I found this HERE: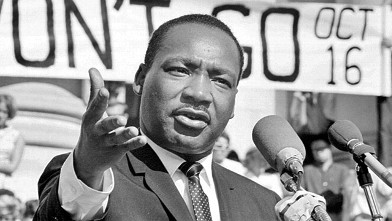 Michael Ochs Archives/Getty Images
How to Honor MLK
The life and times of the Rev. Martin Luther King Jr. fill enough tomes to keep the most voracious readers satisfied until kingdom come, but consider smaller bites for Monday in the form of documentaries (check your TV listings) or even archived news conferences like these from the day after King's assassination: These two -- from a somber
President Lyndon B. Johnson
and an agitated
black activist Stokely Carmichael
-- provide a sobering contrast.
The History Channel website puts others
within easy reach.
How to Honor MLK
What good is accumulating all that knowledge without sharing it with others, particularly young people for whom King has been reduced to the "I Have a Dream" speech and a day home from school. So corner some young relatives or mentees this weekend, challenge their understanding of King's legacy and help them fill in the blanks. Or lead a group trip to the library if you need some scholarly support, or find a King-focused church service to highlight the influence of where he was spiritually moored.
How to Honor MLK
King's legacy includes his unwavering commitment to civil rights and non-violent social change. What better way to pick up on the theme than by applying such principles to your own community. Among the questions you might ask yourselves: Do all your neighbors have unfettered access to polling places? Are the elderly as nourished as they should be? Are your best schools equally accessible by all? Are the children physically fit and destined for healthy adult lifestyles? These are a few possible places to begin your mission.
How to Honor MLK
King's dream is well documented, thanks to his 17-minute, Lincoln Memorial speech at the March on Washington nearly 50 years ago.
"I have a dream that one day every valley shall be exalted, every hill and mountain shall be made low, the rough places will be made plain,"
he said Aug. 28, 1963
, "and the crooked places will be made straight, and the glory of the Lord shall be revealed, and all flesh shall see it together."
What's your dream?
Martin Luther King, Jr.