I loved this story. It is what we all should do...serve when we are hurting, why?
Because it always makes you feel better!
Good night dear friends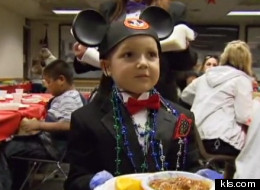 ANCHORAGE, Alaska — A five-year-old boy bravely battling cancer wanted to give back as part of his Make a Wish gift.
Leland Camara, who has been battling Leukemia since September, wanted to volunteer and serve others at his Disneyland going-away party the foundation helped put together. He has been waiting nearly a month to serve at the Kid's Kitchen, a program that provides free meals to children.
When asked why he wanted to serve others, he simply responded, "because I wanted to help out."
"It was heartbreaking when he asked you know, 'I want to volunteer somewhere,' " said his mother, Jennifer Camara. "Knowing that your five-year-old wants to volunteer and help his community it's an amazing feeling."
"It was awesome as parents," said Anthony Camara.
His smile and excitement radiates and he shares that with his six-year-old sister and his spunky twin brother, Skyler.
"Leland is my brother, I love him," Skyler said of his Leland.
The reason why Leland wants to serve others is simple.
"When I asked him he was sure he wants to serve other kids, he says, 'so many people helped me so I want to help others,' " said Laura Bruce, of the Make a Wish Foundation.
This past winter, dispatchers from the Anchorage Fire Department brought Santa to the Camara family's doorstep, surprising the family who otherwise wouldn't have had a Christmas.
At the Kid's Kitchen, Leland is last to receive a plate of his own.
"I wanted to make sure everyone who wanted to eat ate," Leland said.
It seems like he knows his family's received a lot of support. But at the end of the day, the Make a Wish Foundation made sure that good deeds don't go unnoticed. Leland got royal treatment when the foundation brought in an inflatable throne for the boy.
Leland's health is much better following a hard few months, but his parents say he'll need to get chemotherapy once a month for the next three years. Leland and his family spent the weekend in Disneyland.

What the video of Leland's story here:
"
He who gives when he is asked has waited too long." ~Sunshine Magazine
"
The true meaning of life is to plant trees, under whose shade you do not expect to sit." ~Nelson Henderson